Rain barrel "luxe"
Add to cart
Rain barrel "luxe"
Product description
Buy a rain barrel?
Rain barrels for the collection of rainwater
In the Netherlands, annual rainfall averages 800 litres of rainwater per square metre. The easiest and cheapest way to collect this is with a rain barrel. Rainwater is ideal for watering flowers and plants, cleaning windows and washing the car. A win-win situation. Our rain barrels are made out of 225-litre thick-walled oak wine barrels. The rain barrel is supplied with a brass tap, a hole in the back for a rain barrel fill system (downpipe), an oak stand and a loose lid. The "luxe" model has been sanded and is treated with oil. The lid has been provided with a brass handle.

Dimensions barrel:0.95 x 225 ltr (h x volume)
Reviews
5 stars based on 1 reviews
1 review
H Tessers
Posted on 14 October 2022 at 16:14
Mooie grote regenton die netjes in m'n achtertuin is afgeleverd.
Geen moeilijke verhalen van lekkage, hij was gelijk al waterdicht! Top
Recently viewed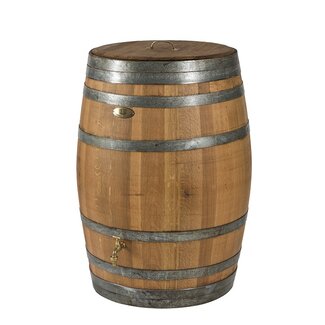 Rain barrel "luxe"
The rain barrel "luxe" has been sanded and treated with oil. The lid of the rain...
5 stars based on 1 reviews
1 review
H Tessers
Posted on 14 October 2022 at 16:14
Mooie grote regenton die netjes in m'n achtertuin is afgeleverd.
Geen moeilijke verhalen van lekkage, hij was gelijk al waterdicht! Top