Table "Cask"
Add to cart
Table "Cask"
Product description
The "Cask" table is handmade from used whiskey barrels and wine barrels. The table surface is made of a lid that refers to a cask/barrel number from the distillery, adding to the robust character of the table. The oxidised rings give the table an industrial look. A perfect table for the presentation of finger food or drinks at a party. Easy to combine with our other furniture. The table has been oiled, which makes it suitable for indoor and outdoor use.

Dimensions: 32x60cm (hxØ)
Recently viewed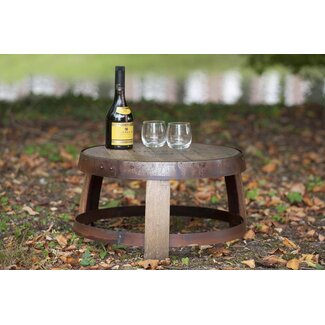 Side table "Cask"
Side table "Cask" has been handcrafted from used whiskey and wine barrels. The l...