Barrel chair "Brandy"
Add to cart
Barrel chair "Brandy"
Artikelcode: B1057
Product description
The wine barrel chair "Ruby" has a coarser finish than our "pinot noir", but created with just as much devotion. Both models get their light colour from sanding the staves. The chairs can be combined into a full set with a bench and a table in the same colour.

Dimensions: 95x70x85 (lxwxh) cm seatheight 43 cm.
Reviews
5 stars based on 1 reviews
1 review
Arnold van enschreden
Posted on 3 February 2017 at 09:59
het is een waardevolle stoel maar wie is de designer??
ik wil u mededelen dat ik graag de designer wil weten.
gr mr.V enschreden
Recently viewed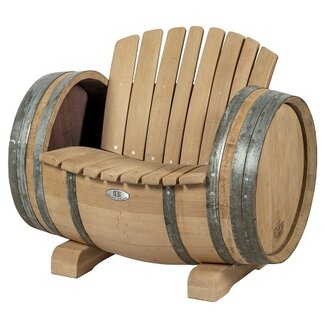 -21%
5 stars based on 1 reviews
1 review
Arnold van enschreden
Posted on 3 February 2017 at 09:59
het is een waardevolle stoel maar wie is de designer??
ik wil u mededelen dat ik graag de designer wil weten.
gr mr.V enschreden