VERY COOL BARREL
Add to cart
VERY COOL BARREL
Artikelcode: B1226
Product description
Rain barrels for collecting rainwater
In the Netherlands, an average of 800 liters of rainwater falls per square meter every year. The easiest and cheapest way to absorb this is with a rain barrel. With rainwater you can water the plants and flowers, wash the windows and wash the car. A win-win situation.
This wooden rain barrel is made from a used and authentic 228 liter thick-walled oak wine barrel from the French Bordeaux and is therefore a showpiece in any garden! They are made of oak, a durable and hard type of wood. With a capacity of no less than 228 liters, you can store a lot of rainwater to bridge dry periods. This saves you drinking water and the rain barrel pays for itself!

Because our rain barrels are made of recycled material (wine barrels), this is the most sustainable solution for your garden.
The rain barrel comes with a mounted brass tap. The lid is fixed and has a hole for the downspout. A coaster can be supplied to preserve the rain barrel. This can be ordered separately in the shop.

Because not all wine barrels are the same, the photos in the shop may differ from reality.

Size: 85x75cm (hxw)
Content: 228ltr




Reviews
5 stars based on 1 reviews
1 review
Jacco
Posted on 29 November 2021 at 20:28
Erg mooie ton, fijn in gebruik
Recently viewed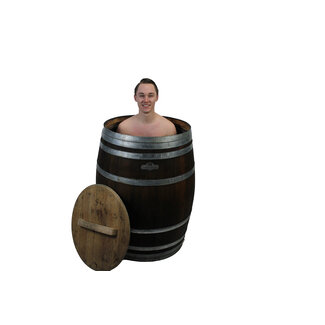 VERY COOL BARREL
This VERY COOL BARREL is equipped with a tap and a lid with handle. This way you...
5 stars based on 1 reviews
1 review
Jacco
Posted on 29 November 2021 at 20:28
Erg mooie ton, fijn in gebruik